AlarmDJ is an online alarm clock web app that plays your music files and YouTube videos of your choice.
With AlarmDJ you wake up to high-quality noisy music, what's totally upgrade the morning and makes the mood much better.
Although AlarmDJ is a web app, it can work offline - No installation needed for that. You can even access it offline. However, there is one limit running offline: it can play just local music files(like MP3 files). But no worries - adding music files from your computer is super easy: just drag and drop music files into one of the playlists. Adding video from YouTube is even easier: all you need to do is paste a YouTube URL into the search box.
Adding full playlists from YouTube is possible with the help of chrome extension letting you add videos and playlists right from YouTube with a click of a button.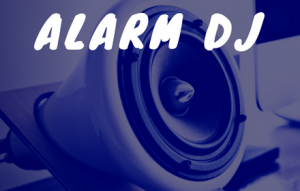 AlarmDJ comes with several playlists built in so you can set up alarm right away - and change the playlists later.
The web app built with the most up to date technologies and design with simplicity as the main guideline principal. Therefore its have engaging user interface design composed of a sleek and bright layout.
AlarmDJ supports Chromecast which means you can turn your TV or stereo system into an alarm clock.
---